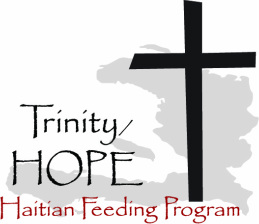 Trinity/HOPE Haitian Feeding Program
Bringing HOPE to the children of Haiti one bowl of beans and rice at a time.

Trinity/HOPE raises money and administers programs to provide hot nutritious daily meals to the children, teachers and cooks in Christian schools in Haiti using established and successful processes. St. Matthew by the Lake supports this mission by providing meals to students and staff members at the School at Colminy, Haiti.
Learn more about Trinity/HOPE
---
Online Auction 2014

This is our second annual online Trinity/HOPE auction event!

Auction Opens on Nov 10 and
Closes on Nov 17 at 9pm!




Thanksgiving Night in the Hunger Fight

November 20, 2014
Auction Opens at 5p
Dinner at 6p

Special Guests:
John Hall and John Phillippe Paul

Join us for a traditional Thanksgiving Dinner and presentation on the Trinity/HOPE mission program.

Menu includes:
Turkey, Ham, Dressing, Mashed Potatoes, Gravy, Green Beans, Rolls, Drinks and Desserts (Pie and Cake)



Silent Auction 2014

Our Silent Auction will be held at
St. Matthew by the Lake Lutheran Church
on November 20 starting at 5p.

We are still looking for auction item donations. If you are able to help, please contact Joan Weber or Rita Vied.

A preview sample selection of items
that will be auctioned will be posted here by Nov 10th. Check back soon and get excited to participate in the wonderful event, get some holiday shopping done, and most importantly FEED Hungry Children in the process!

2014 Thanksgiving Night in the Hunger Fight - Recap!

Our Thanksgiving Night in the Hunger Fight on Thursday, November 20, was a big success. The food was delicious, the silent auction was fun, the fellowship was wonderful, the music provided by our St. Matthew Lake Bank was wonderful, and the best part is we did it all to help feed the Haitian children in our Christian Schools. Through your support and generosity, we raised $6,817—this includes a $2500 anonymous donation to our Thanksgiving Night in the Hunger Fight. Hearing John Hall, Denise Gudlin, and Jean Philippe Paul tell about the children and what the feeding program means to them helps us understand the importance of Trinity/HOPE and the good work it is doing. You opened your hearts and through your generosity helped feed the children and bring them hope and the Good News, one bowl of beans and rice at a time.

The Missions and Ministry Board extends its thanks to all donors of online and silent auction items; the Fellowship Board; the November Reception Committee; our St. Matthew Lake Band; everyone who provided a turkey or ham, a salad or a dessert; Rick Henry and Ponderosa for providing the green beans, dressing, potatoes & gravy; Lucille Schuman for making all the bread & rolls; Rita Vied for chairing the online & silent auctions; everyone who worked so hard to make the evening such a success; and everyone who attended for opening your hearts and giving so generously. It shows how we at St. Matthew by the Lake all work together to do God's work. You are a blessing!