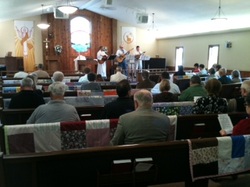 Who Are We?

St. Matthew by the Lake is a family of Christians from various faith backgrounds that God has brought together to serve Lord Jesus Christ in this community.

What Do We Believe?

We believe in the Triune God: Father, Son and Holy Spirit. That the Bible is the authoritative word of God. And Salvation is a gracious gift from God. We celebrate the sacraments of Baptism and Holy Communion as the means of God's grace. Finally, we practice the belief that Discipleship is not about what we do for God, instead it is about responding to what God in Christ has done for us.


---
Our Worship Team:

Debbie Schoo - Chairperson
Lucy Young - Music Selection / Piano Player
Sharon Johnson - Altar Guild
Kent Edwards - Sound/Multimedia
Cheryl Edwards - Acoustic Music Selection / Choir Director / Piano Player
Bob Holcomb - Greeter/Usher Lead

We are currently without a resident pastor. However our Worship Board has been out doing themselves keeping our pulpit filled and worship services interesting!

If you are interested in assisting with Pulpit Supply please contact the church office at 270-527-1856 or email rebekka@stmatthewbythelake.org.

If you are an ordained minister looking for a new church home, please contact Rudy Mueller at I-K synod office regarding the call process for our congregation. He can be reached at 317-253-3522 ext. 305 or
Rmueller@iksynod.org.


Music Inspires Us
at St. Matthew by the Lake.

Our Choir, Acoustic Band, and Handbell Choir
WELCOME new members at any time.

Choir: Wednesday @ 630p - Weekly Rehearsals


Acoustic Choir: Wednesday @ 530p - Rehearse the last and first Wednesday of each month. Acoustic Band typically leads service on the 2nd Sunday on each month.