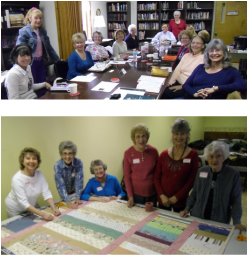 St. Matthew by the Lake Group Opportunities
Wednesday Women Group

WELCA (Women of the ELCA)

Beginners Yoga
Beginners Pilates
Youth Group Activities
Acoustic Band
Church Choir
Handbell Choir
Board Committee Member

---
G.I.F.T Activities
(Growing in Fellowship Together)

St. Matthew by the Lake G.I.F.T or Fellowship Committee is dedicated to creating a diverse assortment of events and activities designed to help members and guests connect together to create a stronger Christian Family.

Committee Members
Ellen & Preston Higgs,
Gary & Sadie Arness, Janet Hicks
Jane Cox, Steve Bergstrom
Sandy & Darrell Olson

Fellowship Chairperson: Dianne Martinek

If you have ideas for future events, comments on past events, or would like to assist or join this group - please talk to any board member. Feedback is always welcome!

We are currently looking for people willing to host picnics, tasting events, or other group events at their homes. If you are interesting in assisting, please contact Dianne Martinek.



Upcoming Fellowship Activities

Purple Toad Winery Outting
Date: June 8, 2-4pm
Join us for an afternoon in Paducah sampling fine wines at Purpple Toad Winery, enjoying some snacks, fellowshipand of course playing the bag games. If they are not bottling, we can tour the facility. Following the wine tasting is dinner at Flamingo Row Restaurant for those who would like to attend.

Country Breakfast
Our breakfast is the 2nd Saturday of every month. Come join us Saturday June 10, 2017 from 7-9 am and enjoy an awesome breakfast

Chair Yoga and/or Pilates
We use a variety of Yoga CD's to help us all learn this wonderful technique to help with relaxation, circulation, tone, stretching - just to mention a few of the benefits of Yoga. Come Join us the 1st Wednesday morning at 11:30 am, All are Welcome




************************************************************************************

Knitting Classes
Come and learn to knit and participate in our Prayer Shawl program. The group meets on Wednesdays at 12:30p in the Library. All are welcome (at any knitting skill level!!)

Did you know? The monies donated during the fellowship hour on Sunday is used for many things including to purchase items used during fellowship activities Except for the Sunday following our Country Breakfast, those donations go toward the Country Breakfast fund.