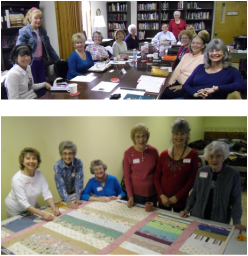 St. Matthew by the Lake Group Opportunities
Wednesday Women Group

WELCA (Women of the ELCA)

Beginners Yoga
Youth Group Activities
Acoustic Band
Church Choir
Handbell Choir
Board Committee Member

---
G.I.F.T Activities
(Growing in Fellowship Together)

St. Matthew by the Lake G.I.F.T or Fellowship Committee is dedicated to creating a diverse assortment of events and activities designed to help members and guests connect together to create a stronger Christian Family.

Committee Members
Ellen & Preston Higgs,
Gary & Sadie Arness, Janet Hicks
Jane Cox, Steve Bergstrom
Sandy & Darrell Olson

Fellowship Chairperson: Dianne Martinek

If you have ideas for future events, comments on past events, or would like to assist or join this group - please talk to any board member. Feedback is always welcome!

We are currently looking for people willing to host picnics, tasting events, or other group events at their homes. If you are interesting in assisting, please contact Dianne Martinek.



Upcoming Fellowship Activities

No B.A.S.S.in November or December.


Beginners Yoga
We use a variety of Yoga CD's to help us all learn this wonderful techique to help with relaxation, circulation, tone, stretching - just to mention a few of the benefits of Yoga. All are welcome, Come Join us.


FALL FESTIVAL AND CHILI COOKOFF
Friday, October 21st

Fun begins @ 4:30, Contest @ 6:00

This year you will be able to enter your Chili and see if you can take the trophy from Bob Holcomb. Judging will be done by ballets.

We plan to have a cakewalk, music, pumpkin carving for the kids, hot cocoa bar, bean bag games and of course fire pits. Mark your calenders and plan to attend this festive event. Bring your lawn chairs and beverages. See the sign up sheets!
************************************************************************************

Knitting Classes
Come and learn to knit and participate in our Prayer Shawl program. The group meets on Wednesdays at 12:30p in the Library. All are welcome (at any knitting skill level!!)

Did you know? The monies donated during the fellowship hour on Sunday is used for many things. One thing we put it toward is to help defray the cost of shipping on goody packages which we send to our college students and our military guy Andrew Berton. Except for the Sunday following our Country Breakfast, those donations go toward the Country Breakfast fund. We also use it to purchase items used during fellowship activities.